Get Out! Weekend Event Listing for 3/8
It's gonna be cold, so its best to keep good company, and these events should be the perfect company to beat the chill.
Read More: Babes, Capital Ale House, Gallery 5, GCCR, hat theatre, NY Deli, outer city lounge, slutever, weekend events
 Here are a few goings'on happening around town this weekend. Consider heading out to any of these events and having yourself a good time. It's gonna be cold, so its best to keep good company, and these events should be the perfect company to beat the chill.
(All info and photos from the events Facebook listings – to get your event listed, please shoot us an email at editor@gayrva.com or post on our
Facebook wall here
)
Friday
It's Free! And it's Khalima and Barry's new monthly shindig…! Professor Bless and the Dancing Madwoman bring you a helping of…happiness! At that special hour. With the Happy Lucky Combo, and guests!
Bring cash for tips, we'll have baskets out!
You never know what might happen, so hold on to your horses!
Come enjoy a fun evening of Board Games, Card Games, Wii and more. FREE EVENT! ALL AGES welcome! Light Refreshments Served
Hey Babe's! It's been a while!
Spread the word that we'll be back on Friday, March 8th!
SLUTEVER
http://slutever.bandcamp.com/
SLEEPIES
http://www.herecomethesleepies.com/
NICE GUYS
http://niceguys666.bandcamp.com/
THE FAGETTES
http://thefagettes.bandcamp.com/track/gonna-die-out-here
18+, $6, 9pm.
Saturday
Join Jennifer Yuengling of the Yuengling Brewery, Mary Wolf of Wild Wolf Brewing in Nellysford VA, Carol Stoudt of Stoudts in Adamstown, PA, Audra Gaiziunas of Mother Earth Brewing in Kinston, NC, and Kristi Griner of Vintage 50 in Leesburg, VA for a night celebrating the women of the industry.
Featuring The "Sexy Cupcake" and Surprise Guest
Only $5 before 11p
A mature 21 + LGBT Event
Dress to Impress
$5 Blue Motorcycles and Long Islands All Night
Sunday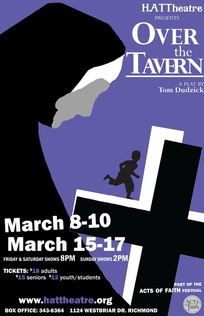 2 PM Over The Tavern @ Hat Theatre 
Talk back session held Sun. March 10th
In that most idealized period of 20th century America, the Eisenhower years of the 1950's, the Pazinski family has a lot going on in their cramped Buffalo apartment. The youngest of the bunch, Rudy, is a wise- cracking kid who's starting to question family values & the Roman Catholic Church, and when he announces to the ruler wielding Sister Clarissa that instead of being confirmed he'd rather shop around for a more "fun" religion, all hell breaks loose. A warm and hilarious look at family, growing up, and God.
RIDING THE BULL
by August Schulenburg
in association with Henley Street Theatre
as part of the Acts of Faith Festival
Directed by Sarah Roquemore
In sleepy Godsburg, Texas, a love-connection between fat Lyza, a loud-mouthed, hell-raising cattle rancher, and skinny GL, a simple-minded, God-fearing, rodeo clown, brings unexpected wealth to the previously down-and-out couple. But as GL & Lyza soon discover, money can't buy everything, and sometimes we only realize what matters most after we've lost it all. As crass as it is charming, this quirky morality play mixes ribaldry and irreverence with the deeper themes of love, faith, and the transformation that comes when we meet God face to face.
Related Stories
Another year is (almost) behind us, and considering all the depressing, ridiculous, and totally outlandish things we endured in 2018, I don't think anyone can blame you if you want a big old blowout to mark the moment when we close the books on this past year. Have no fear, gentle reader, for GayRVA is [...]
December 27, 2018
Prev Report: Marriage equality in Illinois could add $103 million to state's economy
Next School district rejects mediation in complaint filed on behalf transgender girl