Question

Loading ...
Movie Reviews: Lincoln & Skyfall
Dead Presidents and dashing spys all around!
Read More:
Lincoln
Director: Steven Spielberg
Writers: Tony Kushner, Doris Kearns Goodwin(book)
Stars:Daniel Day-Lewis, Sally Field and David Strathairn
Runtime: 149 mins
The latest from Spielberg examines the great president's last 4 months, when he struggled to pass the 13th Amendment to end slavery. Tony Kushner ("Angels in America") wrote the screenplay, so it's wordy and eloquent. In the title role, Daniel Day Lewis is simply amazing: creating a character who's not only imposing, but wise and down-to-earth. Sally Field and Tommy Lee Jones also turn in great performances and the entire cast is outstanding. Visually, it's attractive and full of period eloquence. Don't expect this to be a big hit, the seriousness of the subject and constant conversation renders it too inaccessible. It is a solid history lesson in a beautifully made and intelligent package. For local theatre goers: here are the actors I saw (one line each, in this order): Michael Kennedy, Ford Flannagan, Scott Wichmann, Raynor Scheine, John Moon. (prominent, no line): Joe Inscoe, Alan Sader.
GAY ANGLE: Gay playwright Kushner has made homo references subtle, if at all.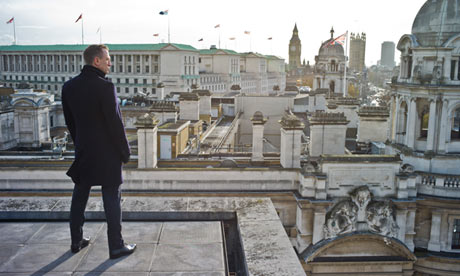 Skyfall
Director: Sam Mendes
Writers: Neal Purvis, Robert Wade,
Stars: Daniel Craig, Javier Bardem and Naomie Harris
Runtime: 143 mins
The 50th anniversary of the James Bond series is acknowledged in this latest installment. Not literally, but in a thematic approach that pits human skills and basic weapons against technology and 21st century tactics. The villain (a blonde Javier Bardem) has devised a lame plot to release the names of spies and a bigger mission to destroy M (Judi Dench). Meanwhile, Bond (Daniel Craig) hasn't fully recovered from the opening sequence (the best action in the film). There are a few other passable encounters, but nothing spectacular. The locales are sufficiently attractive and the new ladies are a minor attraction, but this one relies more on character and discussion than on traditional 007 style and fun. Intellectually, it's an interesting exercise, but is that why what we want from 007?
GAY ANGLE: Lots of Craig flexing flesh plus the hints of a gay encounter.
Jerry Williams reviewed movies for WTVR-TV for 14 years and for Style Weekly for 10 years. When he launched his own website in 1998 at TVJerry.com, he took his reviews to the Internet. Through those hundreds of reviews, Jerry kept his sexual orientation muted. So, he's excited to be adding "gay angles" to his postings for GayRVA.com.
Related Stories
Here's one more article from our Summer 2018 Pride Guide, released in conjunction with VA Pride and available around RVA this week. Grab yourself a copy now! For details on where to find one, click here. In a world where sexism is still very much a present-tense concern, author Mark Loewen has taken a big step [...]
July 20, 2018
Prev UK Bus Driver Refuses to Work Over Pro-Gay Ad
Next Metro Weekly Coverboy Finalists Announced