Question

Loading ...
Get Out! Local Labor Day weekend events
Read More: Labor day 2014 events

There's nothing like another holiday weekend in Virginia to get the Richmond attractions going. Here are some local Labor Day weekend events to get you out of the house:
1) KD40 Concert Series: Jason Derulo
Kings Dominion continues its concert series and End of Summer Music Festival on Friday, August 29th featuring Jason Derulo. Park admission is included with concert tickets and Derulo is scheduled to take the stage at 6:30pm. However, if r&b pop isn't your scene, Bluegrass Music Day is also happening all of this Saturday from 12pm-8pm inside the amusement park.
2)Double Fireworks and Flying Squirrels
"Megablast" is a fireworks spectacle happening this Saturday, August 30th at the evening Richmond Flying Squirrels game. It will be the largest show yet (even bigger than Opening Night and Independence Day) and is the last fireworks promotion of this season at the Diamond.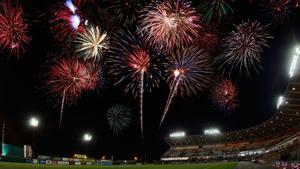 3) Labor Day Wine and Cheese Pairing
On Monday, September 1st, the James River Cellars Winery is hosting a wine and cheese event in the Glenn Allen district. For a fee of $10 a person, you'll be able to taste a variety of cheese pairings that match their award winning wines. It's educational, tasty, and fun!
4) Opera in the Park
Opera in the Park will be at Dogwood Dell this Saturday from 7:30pm-9:30pm. The concert features the Richmond Symphony and will include classics such as Mozart, Rossini, and Verdi. Over 2,000 turned out for this event last year, so you don't want to miss out. Plus, it's free!
5) RUMOURS at Hardywood
This Saturday at 7:30pm, Fleetwood Mac's 1977 album RUMOURS will be covered by local emerging theatre artists involved in Spin, Spit, and Swear. The brewery opens at 2pm with food trucks and a pop up market of local art and fashion designs. This is another free event in which all ages are welcome.
6) Sunday Summer Reenactments of Patrick's Henry's "Give Me Liberty or Give Me Death" Speech
St. Johns' Church Foundation has been presenting historical reenactments since 1976. At the originial location of the 1775 Second Virginia Convention, professional actors will be performing Patrick Henry's infamous "Give me liberty of give me death!" speech on Sunday, August 31st. Seating is first come, first served and street parking is available. While the event is free, a donation of $5 is encouraged.
7) The Chesterfield County Fair
The annual Chesterfield County Fair is back in town again! Located off of 10300 Courthouse Road, this is a family-friendly event for all ages. Pricing is $8 for adults, $5 3-11 years and seniors, children under 3 years are free.
8) Free Farm Tour & Ice Cream
The Lavender Fields Farm in Glenn Allen will be open for two tours this weekend on Friday at 11am and Saturday at 1pm. These free walking tours includes visiting the large production greenhouse area and even the bee hives (from a safe distance, of course). It's a great opportunity to indulge in a century's-worth of farm history and some gourmet ice cream.

9) Bark in the Park at Robins Stadium
On Saturday, August 30th, you're allowed to bring your dog into Robins Stadium to watch the Richmond Spiders kick off the football season against Morehead State. Bark in the Park starts at 5:30 and will also feature a pre-game parade, vendors, and a Sweet Frog Family Fun Zone. Tickets are $15 and count for one adult and one dog.
10) Sam's Club National BBQ Tour
From 10am to 3pm on Saturday, August 30th, local barbecue enthusiasts will be at the Sam's Club on Broad Street for an afternoon of demos and sampling what they do best. This competition is 1 out of 31 that occur during the national tour and  is family friendly. Plus, how could anyone say no to a day of free barbecue?
Prev Opera in the Park returns to Dogwood Dell Saturday 8/30
Next VCU's Gender & Sexuality Department presents DIGIT AL Friday evening